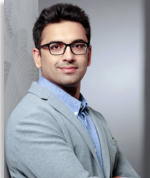 Dr. Abrar Ahmed has started working as an Assistant Professor under IPFP program of Higher Education Commission of Pakistan from 14.11.2018 at Punjab University College of Pharmacy, University of the Punjab Lahore Pakistan. He has earned his PhD degree from Sun Yat˗Sen University, Guangzhou China in August 2018. During PhD, Abrar has reported a novel skeleton of 2,3-seco pleiocarpamine type alkaloid possessing cyano group (Secopleiocarpamine A)
He started working as a post-doctoral researcher from 2.3.2020 at Laboratory of Organic Chemistry, Åbo Akademi (ÅA) in Finland. Abrar has isolated stilbenoids as lead compounds for inhibition of TRPA1 and TRPV4 mediated pain and inflammation. Additionally he is also working with structure-based drug design by molecular modelling at the Structural Bioinformatics Laboratory Åbo Akademi (ÅA).
His research focus include extraction, isolation, structure characterization and elucidation of biosynthetic routes of many potential secondary metabolites from natural sources utilizing multiple chromatographic and analytical techniques like, HPLC, UV, IR, NMR (1D, 2D), HRESI-MS, GCMS and LC-MS.
During first year of his working at Punjab University College of Pharmacy, he earned SRGP research grant for a project entitled "Extraction, Isolation, and Characterization of Natural Alkaloids from Apocynaceae: Probing Pharmacoinformatics Guided Anti-malarial Potential" and work in close collaboration with Professor Dr. Michel Frédérich at Center for Interdisciplinary Research on Medicines (CIRM), University of Liege, Belgium.
Abrar is actively involved in teaching Pharmacognosy (basic and advance) to Pharm.D students. He has published several ISI indexed research publications (SCI) in international Journals like Fitoterapia, Natural Product Research, Marine Drugs, Organic Chemistry Frontiers, Phytochemistry Letters, Arabian Journal of chemistry and RSC Advances.